Pastor Brad has a driving passion to see lives transformed by the gospel of Jesus Christ. When not preaching or teaching he loves spending time with his family and friends, making NEW friends, and enjoying God's creation on long treks in the wilderness. He loves strong coffee, worship music, and early mornings in the Word of God. He is praying for REVIVAL in Alaska!
Laura is a lover of people! She leads our small group 'Connect' Ministry and is Superintendent of Birchwood Christian School! She has 5 amazing children and 4 beautiful grand daughters. In her free time she loves singing, spending time with her family and friends, a good cup of french roast coffee, and dates with her 'hubby.' Laura is a life-long Alaskan and literally grew up in this church. She enjoys any outdoor activity that involves water, a good book and lots of sunshine!
Jesus called Micah into the ministry when he was 16 years old. It wasn't until he was in his first year of college that he understood his calling to be focused towards youth ministry. Micah has a love and a passion to see youth develop their relationship with Christ in a way where they own their faith. God brought him to theCrossing in a unique way as he married the Senior Pastor's daughter. His beautiful wife, Sarah, is an amazing bonus to chasing after God's plan for him and ministry. His family loves to get outdoors and go on adventures and play sports.
Josh was born in Kansas, but grew up in Salzburg, Austria as a kid missionary (Yes, the hills are alive with the sound of music). He met his amazing wife, Mindy, at Bethany College of Missions. After Josh and Mindy were married, they served in Russia and Azerbaijan as missionaries with Bethany International for 10 years. God led them from Azerbaijan to Alaska in 2010. Josh loves serving theCrossing as prayer and family pastor. Josh and Mindy have five amazing children. Together, they love camping, music, hiking, drinking coffee and spending a lot of time with friends and family. Josh really loves Alaska and all the wonderful things that Alaska provides. Josh loves Jesus, his wife, his kids and telling others about God.
Gretchen grew up in Chugiak, AK and continues to raise her 4 children here with her husband, Phil. She has served at theCrossing since 2007 and her favorite part of the job is meeting the new families and getting them connected within the church. She and her family spend their free time camping, hiking and playing outside.
Julie was born and raised in Kenny Lake, Alaska, a small town just south of Glennallen. Her and her husband Ian are both life long Alaskans who love raising their 4 kids in this wonderful community. She has been serving at theCrossing as the childcare coordinator since 2011 and enjoys providing parents with the opportunity to dive into God's Word while their children are being cared for.
AJ grew up in Indiana and lived there until he graduated high school. He joined the military and was stationed here in Alaska, during which time he discovered God's call on his life for full-time ministry. AJ has a passion for leading people into a deeper relationship with God through worship and music. He also has a heart for missions and loves getting to meet and serve missionaries from all over the world. In his spare time he is usually at a local coffee shop or out on an adventure in the great Alaskan wilderness!
Zechariah grew up in a christian home but it wasn't until he was in 9th grade when he gave his life to the Lord. He felt a strong call to serve God with his gifting in music and began to lead worship for his youth group. Zech has served in the worship ministry since then. He answered the call to full time ministry in September of 2017 when he moved down from North Pole, Alaska to lead worship at theCrossing. Since Zech has been at theCrossing he met and married the love of his life and is enjoying the exciting life of being married.
Kathy is passionate about studying, learning and sharing truth from the Word of God; to know God on a deeper level, to walk in truth, to share the Hope of Jesus with others and in bringing understanding, healing and wholeness to life issues that hinder us from walking in obedience and the fullness of God's calling on our lives. She and her husband Kemmer also have a love for being a part of pioneering new churches and ministries which the Lord has embedded and strengthened experientially.
Richard's family was stationed on Elmendorf in the early 50's when Richard was born on Ft. Richardson. The Air Force moved his family in and out of Alaska to England, Florida and Kentucky. At every station they attended church and Richard gave his life to Christ at the age of 7. In 1994, after the death of his mom, Richard started to attend theCrossing (First Baptist Church of Birchwood). Right away, Richard's servant heart drew him to serve in children's ministry and the building program. In 2011 he came on staff as the Facility Director. He continues to serve with children, students and men's ministry and is always working on the facility.
Stephanie started attending church at theCrossing as a junior in High School and was drawn to be a part of this church family right away! After serving for a number of years on the youth staff she became the Director of Youth Ministry and served in that role for 10 years at theCrossing with a passion to see students' lives changed as hers was through this ministry. She currently serves in the role of Director of Design Ministry and loves using creativity to draw people in, but you can also find her in leadership in the MOPS group and serving in the toddler room in the nursery. Stephanie's favorite thing to do is to get up into the mountains with her family, whether it be berry picking, cross country skiing, kayaking or just on a hike, she loves teaching her kids to love the Alaskan outdoors that both her and her husband were raised in!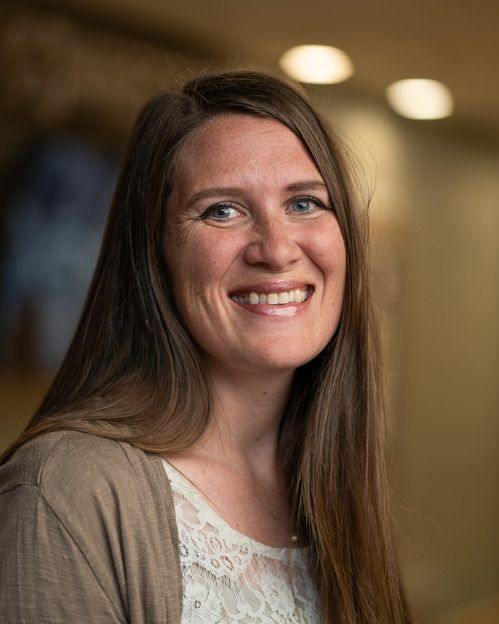 Completely in love with Jesus, Mindy felt the call of God on her life into full-time ministry as a child. Because life with the Lord is an amazing adventure, her relationship with Him has taken her around the world! Mindy and her husband met at Bible school while training to become overseas missionaries. After serving the Lord in Russia and Azerbaijan, He brought them home to Alaska! Mindy loves spending time outdoors in Alaska with her family and friends and talking about Jesus!
Sandy was raised in Bible believing-Jesus loving churches and gave her life to Christ at an early age. The Air Force brought her family to Alaska in 1964 and she has lived here ever since except for a couple of years in Maine. Sandy praises God for all He has done in her life to prepare her to work in the finance office. She loves to serve in children's and student ministry and enjoys her Thursday evening Women's Bible study group.
Kathy was raised in church but did not come to know the Lord until age 22 as the mother of two young children. Searching for answers, the Lord clearly spoke to her through His word and she trusted Christ as her Savior. Now the mother of four children, 15 grandchildren and married to her high school sweetheart for 43 years, she loves to serve at theCrossing in Women's Ministry and the Welcome Ministry. She's been in Alaska over 50 years and loves the outdoors from hiking, camping, berry picking, and riding motorcycles in this great state.
Linda grew up in California and as a young adult, felt called to join the military. After praying for guidance with her pastor, she joined the Air Force. She received an assignment to Alaska in 1983. Linda and her husband joined the Alaska Air National Guard after their first child was born in order to continue their military careers and stay in Alaska, a place they had grown to love. She started attending First Baptist Church of Birchwood off-and-on in the early 90's. Linda has served for ten years in the Preschool Ministry & loves working with the kids and teaching them the love of Jesus. She has worked as an Admin Assistant at theCrossing for the last three years. In her spare time she enjoys cross-stitching knitting, crocheting, quilting, and going for walks.
Rebecca was born and raised in Eagle River in a Christian home. Attending church every Sunday and Wednesday she loved serving as often as she could. She met her husband Ed in 2009 and started their family. They have the heart of sharing Jesus with their children and others. As a family they have been running theCrossing's Upward basketball/cheerleading program throughout the school year.